Banqueting House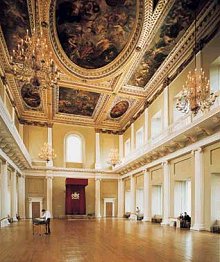 The only existing piece of Whitehall Palace today is the Banqueting House, a superb Renaissance building built in 1622. It was commissioned by Charles I and, designed by Inigo Jones and John Webb (his son-in-law), was used as the royal residence.

Banqueting House is perhaps most famous for being the site of the execution of King Charles I in 1649, the only member of Britain's Royal House to be executed.

Oliver Cromwell, the Lord Protector, then made the palace his official residence and stayed here until his own death. James II then installed himself and later William of Orange and his wife Mary were jointly coronated here.



Opening Hours
Open Monday to Saturday from 10am until 5pm. Closed on public holidays and at short notice for government functions.

Location
Banqueting House
Whitehall
Westminster
SW1


Telephone
+44 (0)20 7839 3787

Getting There
Opposite Horseguards Parade in Whitehall (midway between Trafalgar Square and Houses of Parliament). Very limited parking.

Nearest Tube / Rail Station
Westminster

Bus Routes
3, 11, 12, 24, 29, 53, 77A, 88, 109, 159

Access
Access to the main hall for wheelchair users is via an elevator in an adjoining building - prior arrangement must be made (tel: 020 7839 8918). A ramp provides wheelchair access to the undercroft, where there is also a disabled toilet.

There is a braille version of the guide and a script can be made available for the hard of hearing.

All disabled visitors are admitted at a concessionary rate and wheelchair helpers are admitted free of charge.