British Library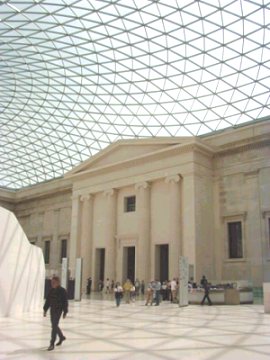 The British Library building is home to the UK's national published archive and also houses unique exhibition galleries plus a number of major works of art such as Paolozzi's statue 'Newton' and Kitaj's 'If not, not', the largest tapestry woven this century in Britain.

The library's collection consists of over 16 million books and periodicals, 660,000 newspaper titles, 295,000 manuscripts, 8 million philatelic items and 4 million maps. On display are some of the world's most famous written and printed items including the Magna Carta (1215), Shakespeare's First Folio (1623) and Codex Sinaiticus (c.350) together with displays on calligraphy, bookbinding, printing and sound recording. More recent items such as hand-written manuscripts and illustrations from Lewis Carroll's "Alice in Wonderland" and original drafts of Beatles songs are also available to view.

In addition, the library houses an award winning computer interactive which allows you to turn the pages of a precious book or unroll ancient scrolls simply by touching the screen.

The library offers a wide-ranging programme of events for visitors including lectures, films, musicals, poetry readings and dramatic performances.

Opening Hours
Monday, Wednesday, Thursday and Friday from 9.30am until 6pm.
Tuesday from 9.30am until 8pm.
Saturday from 9.30am until 5pm.
Sunday from 11am until 5pm.

Location
British Library
96 Euston Road
NW1


Telephone
+44 (0)20 7412 7000

Nearest Tube / Rail Station
King's Cross & St. Pancras

Bus Routes
10, 30, 73, 91, SL1, SL2

Access
All parts of the building are wheelchair accessible and induction loops are installed in many areas.

Guide dogs and hearing dogs are welcome in the building with their owners.