HMS Belfast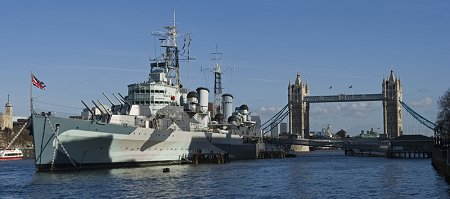 HMS Belfast is a Royal Navy light cruiser permanently moored in London on the River Thames and operated by the Imperial War Museum. Launched in March 1938 and commissioned in early August 1939 shortly before the outbreak of the Second World War, the ship played a leading part in the destruction of the German battle cruiser Scharnhorst at the Battle of North Cape and in the historic 1944 Normandy Landings.

After the war, it supported United Nations forces in Korea and remained in service with the Royal Navy until 1965. It returned to Devonport on 24 August 1963 and was then moored in Fareham Creek from May 1966 to 1970 as an accommodation ship for the Reserve Division at Portsmouth. It opened to the public in October 1971 and has served as a unique and historic reminder of Britain's naval heritage in the first half of the twentieth century.

A tour round this huge and complex warship will take you from the Quarterdeck up to the top of the bridge and all the way down through nine decks to the massive boiler and engine rooms, allowing you to discover what life was like at war and at sea.

On the way you will see the triple 6-inch gun Turrets, the heavily armoured shell rooms and magazines and experience what life was like for the crew by visiting the cramped messdecks, officers' cabins, galley and sick bay.

Opening Hours
10am - 6pm every day

Location
HMS Belfast
The Queen's Walk
SE1


Telephone
+44 (0)20 7940 6300

Getting There
HMS Belfast is within easy walking distance of the Tower of London and Tower Bridge.

Nearest Tube / Rail Station
London Bridge

Bus Routes
17, 21, 35, 40, 42, 43, 47, 48, 78, 133, 149, 343, 381, 501, 521

Access
The nature of the ship makes access to some of the areas below decks impossible for visitors using wheelchairs. Modifications have been made to the Deck, the Quarterdeck, Boat Deck and The Café to make them accessible to wheelchair users.
Access to the ship is via a gangway with a wheelchair lift to lower you on board. Wheelchairs are available on loan and special key-operated toilets are available.