Bond Street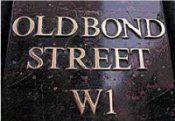 Bond Street runs through the heart of Mayfair, from Oxford Street to Piccadilly. Technically it is made up of two distinct streets, New Bond Street in the north and Old Bond Street in the south. However, even the 'new' end dates from the 18th century and they are usually simply referred to as Bond Street. Old Bond Street was named after Sir Thomas Bond, a prominent businessman of the time and close friend of King Charles II, who bought the land from the Duke of Albemarle together with a group of rich bankers and merchants.

Old Bond Street was laid out in 1686 extending from Piccadilly to what is now known as Burlington Gardens. To this was added New Bond Street, which by 1700 had reached as far as Clifford Street. It wasn't until 1721 that, as New Bond Street, it was fully extended through open fields to Oxford Street.

Today, along with streets such as Oxford Street and Regent Street, Bond Street is best known for its shopping. From international fashion brands to bespoke couturiers, Bond Street is a haven of chic boutiques and shops and boasts flagship stores for Burberry, Hermes and Tiffany as well as exclusive shops selling art, jewellery and antiques.

The area also boasts some of London's finest hotels and restaurants as well as several auction houses, including Sotheby's and Phillips.
Location
Bond Street
Mayfair
W1