Wellington Arch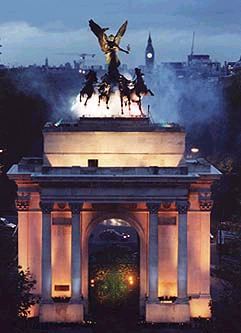 Wellington Arch was designed by Decimus Burton in 1825 as a grand ceremonial entrance to Green Park and Buckingham Palace.

Spiralling costs prevented the scheme being realised as envisaged, and when George IV died in 1830, the government intervened and the Arch at Hyde Park Corner was completed without many of its intended ornamental features. Instead, it was taken over by a Committee organising the national memorial to the Duke of Wellington. In 1846, a disproportionately large equestrian statue of the Duke by Matthew Cotes was erected on top of the Arch without Burton's consent. It remained there until 1882, when a road widening scheme required the arch to be dismantled and moved to its present site looking down Constitution Hill. This allowed the Duke's statue to be removed to Aldershot, the home of the British Army, where it still remains. The neo-classical arch was completed in 1912 by the addition of the Quadriga, a sculpture by Adrian Jones depicting The Angel of Peace descending on the Chariot of War.

In the 1950's, the monument served as the smallest police station in the city, occupied by ten constables, two sergeants and a cat! This was closed circa 1960, when the Arch's setting was radically altered by the creation of the Hyde Park Corner roundabout.

Opening Hours
Open daily from 10am until 5pm.

Location
Wellington Arch
Hyde Park Corner
W1


Telephone
+44 (0)20 7930 2726

Nearest Tube / Rail Station
Hyde Park Corner

Access
Full disabled access with level floors throughout and a lift to all floors.

A hearing loop is available for hearing impaired visitors.