Waterloo Station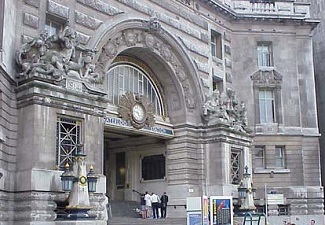 The original Waterloo station was opened on 11 July 1848 by the London and South Western Railway (LSWR) when its mainline was extended from Nine Elms.

The station was completely rebuilt between 1900 and 1922 and had its official opening by Queen Mary on 21st March 1922.

Today Waterloo is the UK's largest train station, covering an area of 24.5 acres.

One of its most notable features is the main pedestrian entrance, the Victory Arch, built of Portland Stone. This commemorates the railway staff who gave their lives in the First and Second World Wars.

The long station front and office building were designed in phases by James Robb Scott, Chief Architectural Assistant to the LSWR. The roof and platforms of the station were designed by J. W. Jacomb-Hood and A. W. Szlumper, engineers for LSWR. The elegant, sweeping concourse, devoid of columns ranks it among the greatest international railway termini of the early 20th-century.


Eurostar train services no longer call at Waterloo and the international part of Waterloo station is now closed. All Eurostar train services now run to and from St Pancras International.
Location
Waterloo Station