Canary Wharf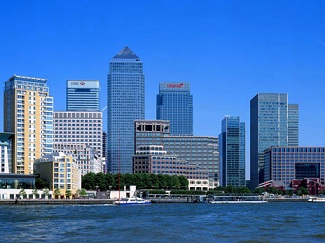 Canary Wharf is a strip of land in the middle of West India Docks. The area was previously a destination for rum and mahogany, later bananas and tomatoes.

West India Dock closed in 1980, the area suffered a fast decline with catastrophic job losses and much of the area fell into derelication.

A regeneration plan was put in place in the mid 1980s and by 1991 the first phase of regeneration was complete. Today the area has been completely transformed into a 97 acre business estate offering 14 million square feet of commercial space.

Some of the world's leading architects and designers were involved in the regeneration including Cesar Pelli, Foster & Partners, Kim & Associates UK and Kohn Pedersen Fox.

The first tenants moved into Canary Wharf in August 1991. Now over 90,000 people work in the district.

Canary Wharf's most famous building is One Canada Square. The tower is 800ft high and culminates in a square pyramid against the sky. Stainless steel cladding reflects changes in light and the colour of the sky.

The tower has 50 floors, 3,960 windows and 4,388 steps, divided into four fire stairways. The tower has 32 passenger lifts which travel from the lobby to the 50th floor in just 40 seconds.

The building is designed to sway 13 and three quarter inches in the strongest winds that might occur once every 100 years.

The area is now a vibrant business district with over 200 shops, restaurants, pubs and wine bars, as well as healthcare, conference and leisure facilities, an extensive arts and events programme and 30 acres of landscaped parks and squares.
Location
Canary Wharf
Canary Wharf