Carlyle's House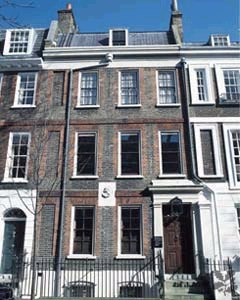 This Queen Anne house is part of a terrace in a quiet backwater in old Chelsea and was home to Thomas Carlyle, the Sage of Chelsea, from 1834 until his death in 1881.

Thomas Carlyle was a well known author, essayist and historian who entertained many literary figures here such as Charles Dickens, Alfred Lord Tennyson, Chopin and George Eliot. His works include Frederick the Great, Sartor Resartus and The French Revolution. The house was turned into a museum in 1895 and it is apparent that much of his furniture, books and other possessions are still in place today. There is also a charming little Victorian walled garden.

Opening Hours
The house is open from April to October.

Wednesday, Thursday and Friday from 2pm until 5pm.
Saturday, Sunday and Bank Holiday Monday from 11am until 5pm.

Location
Carlyle's House
24 Cheyne Row
Chelsea
SW3


Telephone
+44 (0)20 7352 7087

Getting There
Carlyle's House can be found off Cheyne Walk, between Battersea and Albert Bridges on Chelsea Embankment, or off the King's Road and Oakley Street.

Nearest Tube / Rail Station
Sloane Square

Bus Routes
11, 19, 22, 39, 45, 49, 219

Access
Due to the large number of steep stairs and narrow doorways there is unfortunately no wheelchair access to the house or grounds.