Albert Memorial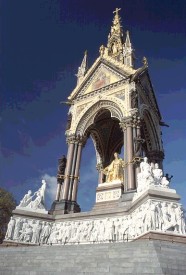 The Albert Memorial was commissioned by Queen Victoria to commemorate her husband, Albert, Prince of Saxe Coburg, who died of typhoid fever in 1861. It is one of the great sculptural achievements of the Victorian era, and for sheer scale, opulence and complexity is hard to match.

The famous gothic monument was donated by Sir George Gilbert Scott and stands 175ft (53m) in height in Kensington Gardens opposite the Royal Albert Hall. It took over 12 years to complete (1863-76) at a cost of approximately £120,000 and is lavishly ornamented with precious materials and the finest sculpture of its period.

The base of the monument is formed by three quadrangular flights of steps, and at the four corners are large masses of carved granite on which stand groups of marble statues representing Europe, Asia, Africa, and America. Above this is an ornate frieze depicting 169 lifesized figures of celebrated painters, sculptors, poets, writers and men of science. These were sculpted by John Birnie Phillip and Henry Armstead.

At the four corners of the podium are more groups of allegorical statuary representing commerce, manufactures, agriculture and engineering. The bronze gilt statue of Prince Albert robed as a Knight of the Garter was sculpted by John Foley. He is seated on a chair of state holding a catalogue from the 1851 Great Exhibition. Over him is a richly decorated Gothic canopy, about thirty feet square, supported by groups of polished granite columns, and surmounted by a beautiful spire, highly ornamented up to the very top, where a cross completes this marvellous piece of workmanship.
Location
Albert Memorial
Princes Gate
Off Kensington Gore
Westminster
SW7

Telephone
+44 (0)20 7298 2100
Getting There
The Albert Memorial is located in Kensington Gardens, directly opposite the Royal Albert Hall.
Nearest Tube / Rail Station
South Kensington
Bus Routes
9, 10, 33, 49, 52, 52a, C1
Access
There are two disabled toilets nearby at the bottom of the Broad Walk (close to the Serpentine Gallery) and at Mount Gate.