Admiralty Arch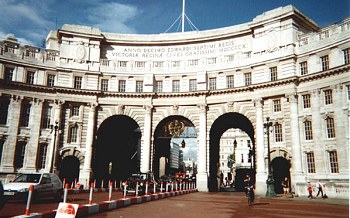 Commissioned by Queen Victoria's son, King Edward VII (who died before it was completed), it was designed by Sir Aston Webb. Piercing its center is a quintet of arches faced with Portland stone, marking the first (and widest) stage of a majestic processional route leading from Buckingham Palace eastward to St. Paul's Cathedral. The centermost of the five arches is opened only for ceremonial occasions; the two side arches are for vehicular traffic, and the two smallest arches for pedestrians.

The inscription above the arches reads:
ANNO:DECIMO:EDWARDI:SEPTIMI:REGIS
VICTORIĘ:REGINĘ:CIVES:GRATISSIMI:MDCCCCX:

Roughly translated: "In the tenth year of the reign of King Edward VII, to Queen Victoria from a grateful nation, 1910"

If you pass beneath the arch you will enter the wide panoramic thoroughfare known as the Mall, which leads to Buckingham Palace.



Location
Admiralty Arch
Trafalgar Square
WC2

Getting There
The arch is located at the northeast end of The Mall and on the southwest side of Trafalgar Square.
Nearest Tube / Rail Station
Charing Cross