British Museum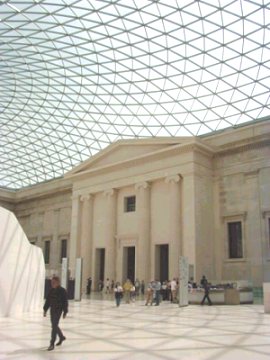 Established in 1753 with the acquisition of Sir Hans Sloane's collection of antiquities and art, the British Museum is the oldest museum in the world and is now home to over four million exhibits. The museum boasts Medieval, Renaissance, Modern and Oriental collections. These range from and include archeological items, prints, drawings, natural history artefacts, coins, sculptures and other treasures.

Given the number of items on display it is no surprise to know that the museum is vast - its 94 galleries cover 2.5 miles (4km).

The present building was built in 1847 by Robert Smirke and is itself an impressive structure. Equally impressive are the Elgin Marbles taken from the Parthenon in Greece, the Rosetta stone, the Magna Carter from 1215, the remains of a Saxon ship with its silver and gold, Egyptian mummies to name but a very few of a huge collection.

The old Royal Library, which had been founded by Henry VII, was presented to the trustees of the museum by George II and incorporated into the museum in 1757. With this library came the privilege of compulsory copyright, which means that a copy of every book published in the country has to be presented free to the museum.

Opening Hours
Saturday to Wednesday from 10am until 5.30pm.
Thursday and Friday from 10am until 8.30pm.

Location
British Museum
Great Russell Street
Holborn
WC1


Telephone
+44 (0)20 7323 8000

Nearest Tube / Rail Station
Russell Square

Bus Routes
7, 8, 10, 19, 22b, 24, 25, 29, 38, 55, 68, 73, 91, 98, 134, 188

Access
Wheelchair access and disabled toilet facilities. Limited disabled parking is available. Guide dogs are welcome.