Monument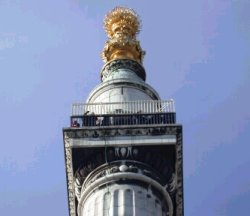 Built to commemorate the Great Fire which devastated the City of London in 1666, the Monument offers stunning panoramic views over London.

Standing 202 feet high, the Monument is the tallest free standing stone column in the world. Its height is equal to the distance between the base of the column and the baker's house in Pudding Lane where the Great Fire of London is reputed to have begun.

Originally designed by Sir Christopher Wren and altered by Robert Hooke, the Monument was constructed between 1671-1677. The simple fluted Doric column is crafted from Portland stone and is topped by a flaming urn of copper symbolising the Great Fire.

The north and south sides of the pedestal each have a Latin inscription, one describing the desolation of the city laid in ashes, and the other its glorious restoration.

Opening Hours
Open daily from 10am until 6pm

Location
Monument
Monument Street
The City
EC3


Telephone
+44 (0)20 7626 2717

Nearest Tube / Rail Station
Monument

Bus Routes
15, 17, 21, 22A, 25, 40, 43, X43, 47, 48, 133, 501, 521, D1


Access
Vistors must climb 311 steps to reach the top of the Monument. For this reason it is unsuitable for disabled visitors or those with limited mobility.