Old Operating Theatre Museum & Herb Garret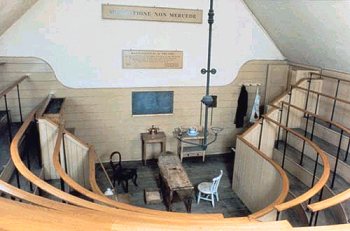 The roof garret of the church of St Thomas' contains Britain's oldest operating theatre, dating from 1821.

The theatre was part of St Thomas' Hospital before it moved sites in June 1862. The timber garret was used by the apothecary for the storage and curing of herbs to be used in medicine. The theatre witnessed the advent of anesthesia in 1846 and closed three years before Lister began his experiments in antiseptic surgery and provides an evocative reminder of the incredible medical advances over the last 150 years.

Opening Hours
The Museum is open every day from 10.30am until 5.00pm.

Location
Old Operating Theatre Museum & Herb Garret
9a St. Thomas Street
SE1


Telephone
+44 (0)20 7955 4791

Getting There
The museum is just by London Bridge, opposite Guy's Hospital.


Nearest Tube / Rail Station
London Bridge

Bus Routes
17, 21, 35, 40, 43, 47, 48, 133, 149, 343, 344, 381

Access
Disabled access to the building is limited.