London Zoo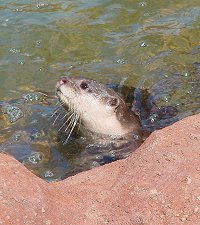 London Zoo is located in the heart of London on the north side of Regentís Park. The 36 acre conservation centre is spread over three areas of garden linked by tunnels and bridges and it houses a diverse animal collection including invertebrates, reptiles, fish, birds, and small and large mammals such as lions, tigers, gorillas, giraffes and bears.

London Zoo was the World's first scientific zoo. Opened in 1828, it housed a collection of exotic animals that were studied by eminent scientists of the day. Only later, in 1847, did the Zoo open its doors to the public and from then on it became the most famous zoo in the world. Among many world firsts, the Zoo opened the first reptile house (1849), the first public aquarium (1853), insect house (1881) and childrenís zoo (1938).

Today the Zoo looks after 650 animal species, of which 112 species are listed as threatened in the Red Data books, and participates in breeding programmes for 130 species.

Opening Hours
Open daily from 10am until 4pm.

Location
London Zoo
Outer Circle
Regent's Park
NW1


Telephone
+44 (0)20 7722 3333

Getting There
London Zoo is located at the north-east corner of Regent's Park on the Outer Circle.

Nearest Tube / Rail Station
Camden Town

Bus Routes
274, C2

Access
Most of the Zoo is accessible for wheelchair users and those with walking difficulties, with two notable exceptions - the Moonlight World and the Aquarium.

There are six disabled parking bays near the Zoo entrance.