Regents Park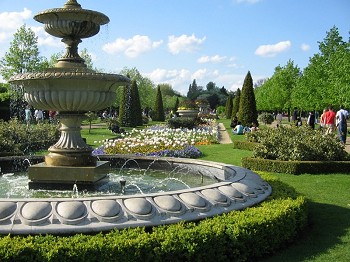 Regents Park is a being a vast green space (487 acres) which provides a welcome break from the fast-paced, hectic city life.

You can get lost in the miles of scenic walkways that are in this Royal Park, take a boat trip on the Boating Lake and spot all the wildlife and waterfowl.

The park has facilities for Tennis or you can just sit back in one of the numerous cafes with a cup of coffee, enjoy the view and watch everyone else exerting themselves.

At the southern end of Regents Park are Queen Mary's Gardens which are frequently visited by Londoners and are probably the most beautifully laid out gardens in London, with hedging, flowerbeds, fountains and whose fabulous rose gardens rival the very best.

Nearby you will find the bandstand as well as the Open Air Theater which is a beautiful setting for outdoor productions of musicals and Shakespeare. Regents Park is also home to Regents College while a stone's throw away you will find Madame Tussauds and the London Planetarium.

At the northern end of Regents Park you will find London Zoo, a long-time favourite with the kids. Regents Canal also passes along here, where the passing barges lead you to Camden Town to browse through the markets there. Across the road, further north again you will find Primrose Hill which has some of the best views of London city on offer.
Location
Regents Park
NW1

Telephone
+44 (0)20 7486 7905
Nearest Tube / Rail Station
Regents Park & Baker Street